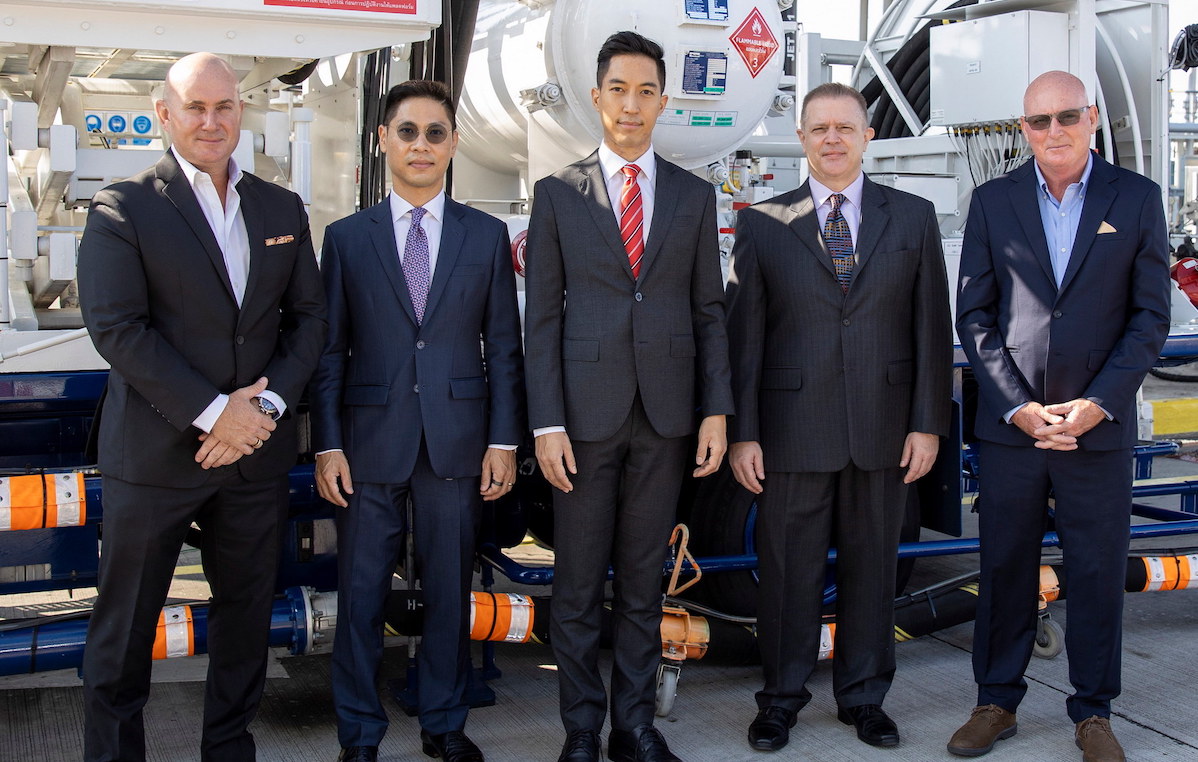 PRESS RELEASE 15.02.2021 SDLT Joint Venture
SDLT Joint Venture between BAFS and SAPIO brings Distributed Ledger Technology to Thailand
Picture from left to right: Mr. Adrian Apperley, Executive Director, SAPIO Asia;  Mr. Gritt Madisara, Chief Executive Officer, BAFS Innovation Development (BID); M.L. Nathasit Diskul, Vice President, BAFS; Mr. Gary Pound, Executive Director and Mr. Marcello Fontana, Executive Director, SDLT Company Ltd. (SDLT).
Bangkok – 15 February 2021 – SDLT Company Ltd. (SDLT) was established through a joint technology venture between SAPIO Asia and BAFS Innovation Development (BID), a subsidiary of Bangkok Aviation Fuel Services Public Co., Ltd.
SDLT is leveraging the technical expertise and market access of its parent companies to develop and commercialise innovative enterprise solutions using state-of-the-art distributed ledger technology (DLT) a.k.a. blockchain. SDLT is set to offer cutting-edge blockchain solutions to Thai and global companies, allowing them to remain competitive in the digital era. COVID-19 has recently exposed the urgency for digital transformation. DLT will therefore be a pivotal enabler for companies to operate with greater agility and resilience both during and after the pandemic.
SAPIO Asia and BAFS Innovation Development (BID) are both market-leading pioneers in innovation. SAPIO's technology leverages rich end-user data (smartphone, email, social media) and advanced machine learning capabilities to deliver Fintech-as-a-Service and AI-driven solutions for financial services partners. "SAPIO's business focus includes financial services, retail, and analytics. We offer a platform for insurance businesses, retail value management/audience aggregation, and lending. This is a great opportunity where we can bring in expertise, blend it with our local know-how in marketing, operations, credit and technology, helping Thai businesses to stay competitive," said Mr. Adrian Apperley, SAPIO's Executive Director.
As the technology investment subsidiary of Bangkok Aviation Fuel Services (BAFS), BID develops human-centric technological and digital solutions for the aviation, petroleum, and other industries. BID and SAPIO formed a relationship based on the fundamental belief that blockchain is a differentiated value proposition needed by the market. "BAFS strongly believes that technology is the way forward to create more efficient operating models that consider relevant stakeholders and enable sustainable paths to growth. With this vision in mind, BID was established in 2015 with 70 million baht in investment and has proved that we're going in the right direction," said M.L. Nathasit Diskul, Vice President, BAFS.
Driven by this eagerness to participate in digital transformation, BAFS found a way with SAPIO to help automate their processes and differentiate themselves in the market. The two companies decided to come together for this joint venture now that the domestic and international markets are ready for cutting-edge blockchain. It has proven to be a market-leading technology that delivers streamlined business operations, significant cost reductions, accelerated cash flow cycles, improved margins, data integrity, and privacy. Leveraging DLT, companies can successfully re-align business models to fit the rapidly changing external environment, including the post-COVID recovery period.
SDLT designs, builds, and manages private blockchain solutions with integrated AI capabilities for enterprise clients and government agencies. They build trust, transparency, efficiency, and security into client operating models; simultaneously providing streamlined intra and intercompany business interactions with automated intelligent decisioning. "With our extensive experience, pioneering blockchain platform and applications development ecosystem, SDLT can prototype and deliver custom DLT applications in as little as 30 days. We have developed solutions for many different industries including supply chain & logistics management, healthcare, hospitality, retail, and insurance. In this digital era, it's not only about having a technical advantage but security and operational efficiencies which are also key to business success as we participate in an economy of trust," concluded Mr. Gary Pound, Executive Director of SDLT.
As B2B and B2C businesses increasingly shift to digital markets, the unrivaled benefits of blockchain and distributed ledgers place them in a strong position to become top-tier technologies of digital transformation. In Thailand's current climate, businesses that invest in the use of blockchain-powered digital channels and platforms will be better equipped to benefit from uninterrupted continuity of business operations in the event of future crises.
Media contact:
SDLT:            Alice Osborne           Tel.+66 (0) 9 8246 2574           e-mail: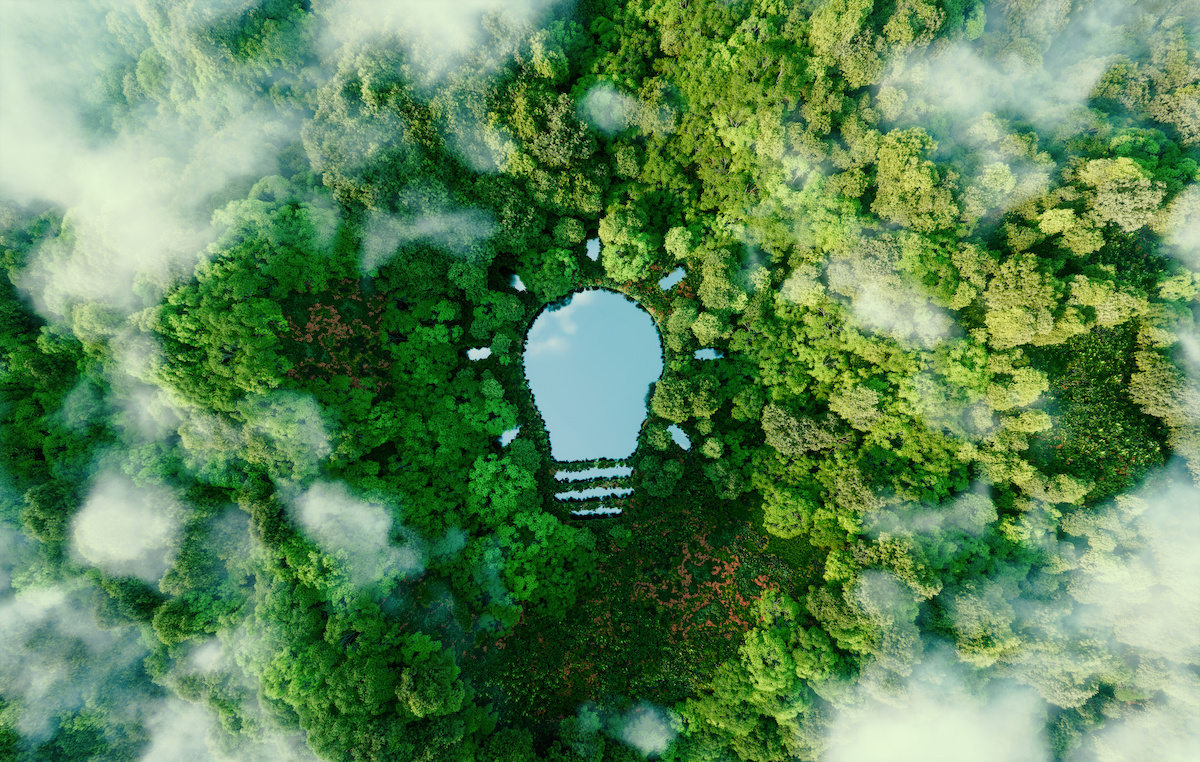 11 March 2022
Human-induced carbon dioxide fuels global warming Greenhouse gases (GHG) are an essential part of Earth's atmospheric makeup. These…
[email-subscribers-form id="1″]