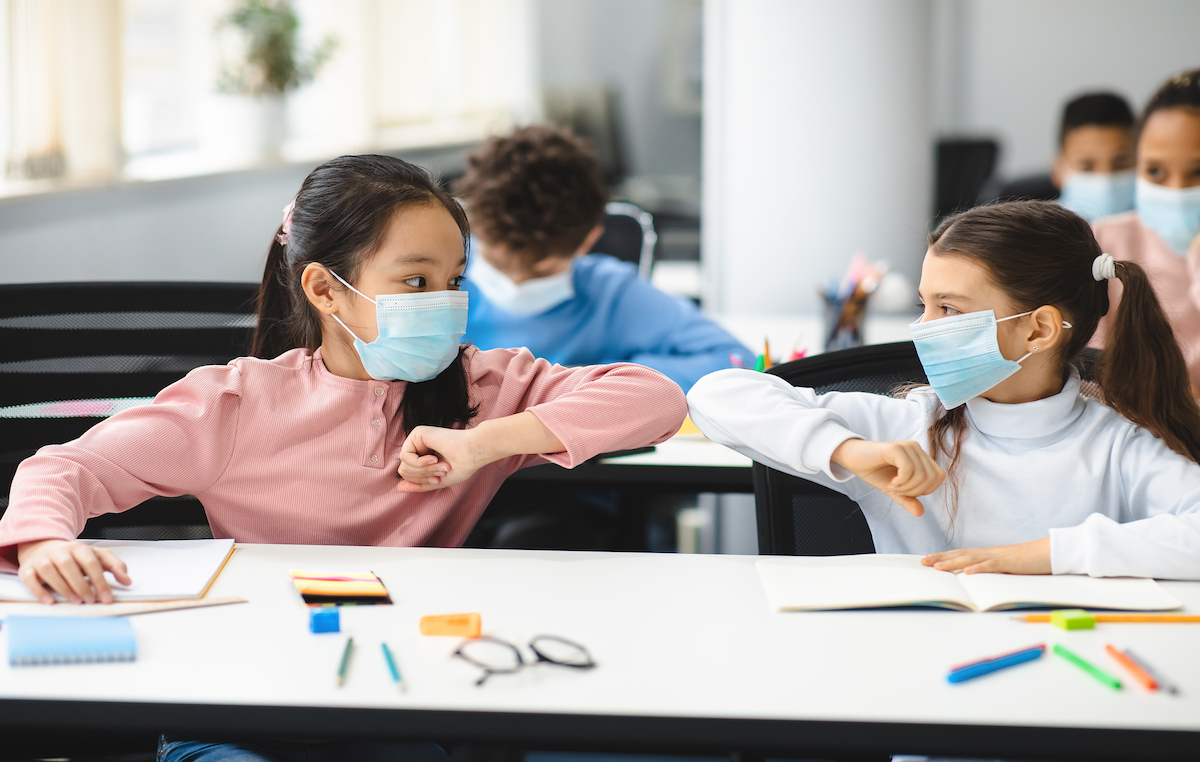 Physical and digital safety of students returning to school
Almost two years into the Covid pandemic, the current environment has left parents afraid for their children to return to the classroom due to concerns around the physical and digital safety of students. With a defined plan and enabling technologies in place – such as IoT sensors, artificial intelligence and blockchain – the wellbeing of students and staff can be protected during the highly anticipated return to school.
Emerging technologies deliver campus solutions that help monitor exposure across locations, such as building entrances, dining halls, meeting rooms, libraries, classrooms, auditoriums, offices and more. Intelligent workflows that leverage these enabling technologies will build lasting smart, resilient, environments for learning and capitalise on the following benefits:
Relatively swift speed to reopen the campus
Achieve compliance with campus plans, policies, and procedures
Monitor safety and security across locations using a scalable solution
Provide insights that help analyse student/staff performance against health and wellbeing targets
Protect students and staff with anonymised data
Enrich the campus experience, efficiency, and operations
Flexible deployment with future use cases
IoT opportunities for return-to-school policy compliance across locations 
Covid-19 has accelerated the need for our schools' systems to focus on the health, wellness and security of our children. Intelligent workflows integrate IoT sensors, AI analytics and blockchain distributed ledgers for complete agility and transparency over everyday school processes. The technologies bring comprehensive data visibility and real-time insights based on thermal and optical cameras, Bluetooth beacons and smartphones, people counting sensors and wearables on campus.
When it comes to learning to live in the new normal, advanced sensor technologies within the internet of things can be used to analyse personnel data, monitor potential risks and alert of any deviations or violations so that immediate action can be taken in the interest of campus safety. Examples of IoT devices used in schools include one-click help buttons, access control, visitor management, online activity monitoring, vape or even gunshot detection. Leveraging IoT streamlines the current school process to improve campus safety, track key resources, enhance access to information, and enrich the learning environment.
The positive impact of AI-enabled trained analytics and video surveillance for physical safety
Enhanced video surveillance and analytics are important for keeping schools more comfortable, safe, and secure. AI-enabled analytics means that artificial intelligence automates the steps that humans would otherwise take in an exhaustive fashion to complete analysis. For example, thermal cameras could be placed at entrances for infection mitigation in schools to identify students and staff who may be running a fever.
AI-enabled analytics could be further used to recognise mask-wearing and identify those who break the mask-wearing rules, even alerting staff when groups congregate to safely enforce social distancing protocols. Pandemic safety justifies the increased use of emerging technologies such as video surveillance and artificial intelligence analytics, the application of which can be extended to other aspects of campus safety such as the identification of intruders and dangerous incidents like a fire in the science lab.
Blockchain distributed ledger technology for superior student data security
The security of children's data is just as important as their physical safety while on campus. Blockchain is a digitally encrypted ledger that uses cryptography to timestamp and secure data. Instead of uploading data to a cloud server or storing it in a single location, blockchain breaks everything into small chunks then distributes them across the secure network of computers to maximise data security and minimise data loss.
For educational institutions and school security systems, blockchain encrypts the data so that it is only accessible to selected, authorised participants on the network. The distributed ledger technology keeps the database of student names, financial/fees details, addresses, etc secure as there is no single point of system vulnerability. Blockchain seamlessly supports campus models for monitoring student well-being, whilst anonymising their data to help protect personal privacy without limiting the data-driven insights that ensure return-to-school policy compliance across campus.
Both the physical and digital safety and security of children is paramount with the return to school
The ongoing pandemic has caused enough disruption to our schools and universities. Schools and universities require distinct technological capabilities to ensure that staff and students can return safely to campus. Together, the three enabling technologies of IoT, AI and blockchain have the extraordinary potential to ensure the physical safety and data security of our children. Enhancing the physical and digital safety of campuses through technology can begin as early as nursery and continue to be implemented throughout secondary school and into higher education. Ultimately, these smart campuses will allow educators to focus their talents and impact the long-term health and wellbeing of their students.
To find out more about how SDLT can develop customised AI-driven analytics and blockchain infrastructure to support your transition to a smart school, please contact Adrian Apperley directly at +66 (0) 8 1751 8308 or through .
9 May 2023
Blockchain in Retail MarketLatest Study on Industrial Growth of Global Blockchain in Retail Market 2022-2028. A detailed study accumulated to offer Latest insights about acute features of the Blockchain in Retail market. The report contains different market predictions related to revenue size, production, CAGR, Consumption, gross margin, price, and other substantial factors. While emphasizing the
[email-subscribers-form id="1″]